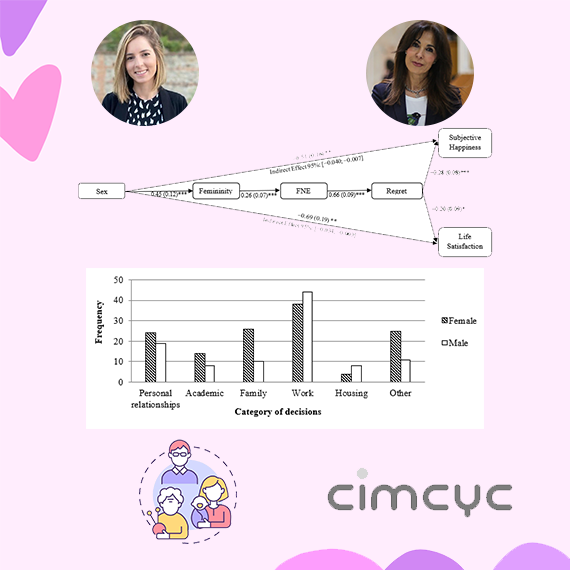 The role of femininity, fear of negative evaluation and regret in decision making
Gender roles operate as a social scheme through which people learn how they should behave. These behaviors or decisions are legitimized by society, especially in women, since if they deviate from their traditional gender roles, they could be socially sanctioned.
This research, conducted by Laura Villanueva Moya and Francisca Expósito of the Social Psychology and Gender Laboratory at CIMCYC, examines whether endorsing gender role could be related to regret in women's decisions, as well as the possible consequences for their well-being.
The results of the quantitative analysis showed that women (vs. men) had greater internalization of gender roles, which was associated with greater fear of negative evaluation. This, in turn, was associated with the experience of regret in decision making, which appeared to lead to lower well-being.
Qualitative results showed that women's most important decisions were based mainly on work (24%) and family (21%), while men's decisions were based on work (35%).
Specifically, 16% of men's versus 7% of women's decisions were related to changing or leaving a job to improve their working conditions. Likewise, we found that 1% of men's versus 9% of women's decisions were related to changing or leaving a job to stay with the family. Finally, only men (6%) made decisions related to moving away from family for work.
These results reflect that men do not seem to have to decide between work and family and, consequently, their decisions are more focused on achieving their goals. On the other hand, women are often forced to choose between work and family, which can lead to feelings of discomfort, such as regret in making decisions and, consequently, lower well-being.
Contact
Laura Villanueva Moya: @email
Francisca Expósito: fexposit@ugr.es
Full reference
Villanueva-Moya, L., & Expósito, F. (2022). Are gender roles associated with well-being indicators? The role of femininity, fear of negative evaluation, and regret in decision-making in a spanish sample. Current Psychology. https://doi.org/10.1007/s12144-022-03142-7