The Mind, Brain and Behavior Research Center at University of Granada (CIMCYC-UGR) is a centre for psychological excellence research.
We incorporate scientists coming from all areas of Psychology motivated by the study of mental and brain functions using a cluster of classical and modern neuroimaging techniques.
We all share the goal of understanding how mental processes and behaviour emerge from normal brain activity, and how behavioral problems are related to the breakdown of brain processes. The CIMCYC is composed by a pleiade of research teams devoted to the study of all aspects of Psychology, encompassing Clinical and Health Psychology, Human Development, Applied Psychology, Higher Cognitive functions and social interactions.
Home to the Functional Magnetic Resonance Unit of the University of Granada, the leading neuroimaging tool of Southern Spain, CIMCYC is aimed at improving citizens well-being, seeking to disentangle the ways in which mind, brain and behavior are causally related. We host and train over 250 researchers, and hold collaborations with more than 50 researchers throughout the world.
Apart from conducting high-standard scientific research, we plan to offer a range of training opportunities to support the development of psychological research both at the regional andalusian level as well as nationally and internationally.
Facilities
The Mind, Brain and Behavior Research Center has a functional Magnetic Resonance Imaging Unit, equipped with a MRI scanner available to researchers around the world. It is a 3T Siemens Trio.
The scanner if fully equipped with devices for audio and video projection, either back-projection or goggles, and collection of subject responses. We are actually developing programs for simultaneous EEG/fMRI acquisition and optimizing sequences for EPI's of different brain structures of interest.
The Center has time available on the 3T scanner and offers a great variety of research packages to researchers interested in brain functions.
The Research Groups owned a variety of EEG recording devices, including Brain Vision, Biosemi, Neuroscan, and EGI systems.
There are also a variety of eye-trackers (Facelab, Tobi, Eyelink), amplifiers for peripheral electrophsyiological recordings, and traditional paper and pencil psychological test and questionnaires. Altogether, the facilities are helpful to provide a complete picture of human mind.
The Center has also around 35 electrically shielded and 200 behavioral testing rooms designed to facilitate optimal behavioral, neuropsychological and psycho-pharmacological assessment.
Finally, there are a number of facilities for visiting scholars and doctorate students.
About the Center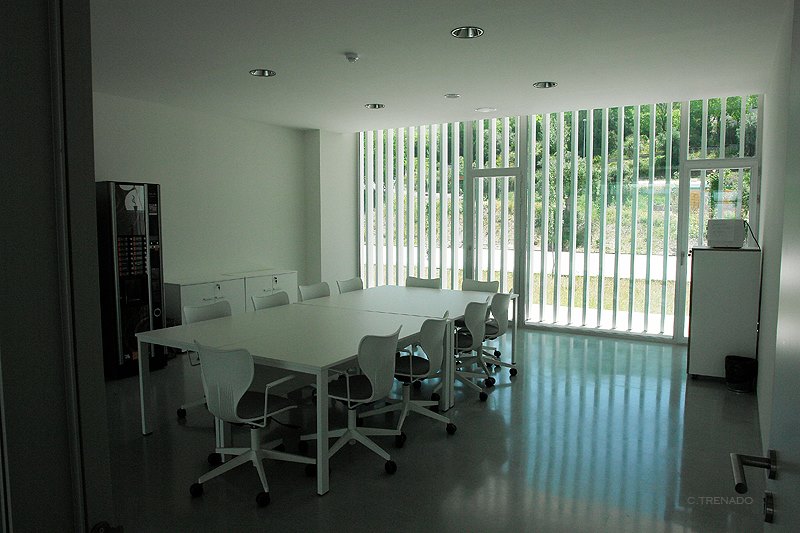 The Brain, Mind and Behavior Research Center (CIMCYC) was founded in 2013 following a major grant from the European Union (FEDER), that provided for the building and mobiliary. Another major grant from the EU allowed the installation of the functional Magnetic Resonance Unit (FEDER).
These grants enabled a core group of scientists, then based in School of Psychology to relocate to a wonderful Granadian site, within the University of Granada's Campus de Cartuja (near the baroque Cartuja Monstery of Granada) .
The CIMCYC's research tools included also eye-movement and EEG recording devices, plus the classical electrophysiological and paper and pencil psychological instruments. Actually, the Center is awaiting for TMS and NIRS tools.